Auto insurance is one of those expenses, consumers wish they will never have to incurred. While buying the right coverage is important, obtaining a good policy at the best price, could be a challenge, says Evelyn Calabuch, General Agent of American US Insurance, a Florida Independent Insurance Agency based in Boca Raton. Every year, insurance prices increase due to many reasons like the number of mishaps, cost of repairs and labor, frequency of natural disasters, fraud related claims, etc.
Generally, automobile and home insurance are the most affected sectors, but the principle remains the same for all types of insurance: the greater the risk, the higher the premium will be.
Here are Ten (10) helpful tips on how to keep your premiums in line without taking unnecessary risks.
1. Is your car aging? Consider removing unnecessary coverage
Weigh the cost of collision protection against the value of your car and the deductible you choose. When you factor in expenses, you could save even more on your collision and damage insurance without this coverage. For example, if you have an older car worth about $ 1,000 and your deductible is $ 1,000, collision coverage is not useful.
Note, that removing collision protection means that if the vehicle were damaged in an accident, the repair would be entirely at your expense, as your insurer would no longer cover you. Make sure you are comfortable with this possibility before removing the coverage.
2. Insure your car and your home with the same insurer
You may be eligible for a multi-lines discount. Insurance companies offer this discount for the chance to insure your home as well. Eventhough not all insurance companies will do this in Florida due to the higher risk, it is worth to ask your agent about this possibility.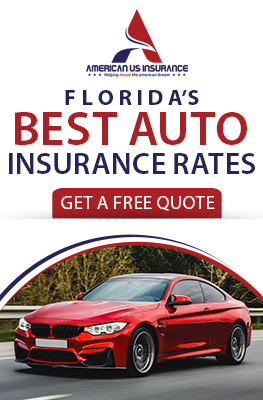 3. Increase your deductible
Insurance is intended as a safety net in the event of damages and expenses that you would have difficulty paying all at once. Your deductible is entirely at your cost. If you can manage to pay more for repairs than your current deductible, you can increase your deductible to what you think is reasonable. The higher your deductible, the more affordable your insurance premium will be.
4. Insure all your autos with the same insurer
Insurance companies offer a better rate to customers who insure more than one car. Multi car discount is one of the greatest savings one can have, sometimes to a point where you pay less for having two or more cars insured, instead of just one with the same insurance carrier. Purchasing a family policy for your household is a great way to save hundreds of dollars per year. Talk to a licensed agent about this option or click here for more information about a Florida auto insurance policy.
5. Drive safely
Your driving information or record is one of the most determining factors for your insurance premium. Insurance companies use your driving history to determine your risk on the road. As a general rule, the better your driving record, the lower your insurance premium will be.
Here are some features that insurers take into account when analyzing your driving record:
a) The number of years since obtaining your driver's license
b) Any conviction for a driving offense
c) The number of accidents you have had
d) Any moving violation in record
e) Any record of DUI's or drug possession
Remember: Insurers also consider the number of drivers who use your vehicle and their driving record. To check your Florida license status, click here.
6. Drive a low-risk car
The insurance premium for a car is based on the history of claims for the vehicle. This is a reality for all insurance companies. The more likely a car is to be stolen or involved in a roll-over accident, the more you will pay for insurance. Consider purchasing a less risky vehicle, that has better safety ratings. Insurance companies love this.
7. New driver? Consider taking a driving course
New license holders who have taken an approved driving course within the past three years pay a lower premium. Whether you are just starting to drive or if you are trying to improve your driving skills, driver improvement schools can help you get on the road, as per the Florida Department of Highway Safety and Motor Vehicles. Safer drivers pay a lower insurance premium.
8. Have an approved anti-theft system installed in your car.
Depending on their value and appearance, some cars attract more attention than others. When purchasing an auto insurance policy, companies sometimes offer you additional discounts for installing anti-theft systems to protect specific models, steering wheel lock, audio alarms or GPS trackers, etc.
The increase in auto theft can after a few years, cause companies to increase auto insurance premiums. To reduce the number of stolen vehicles, most insurers therefore recommend the installation of anti-theft systems to cover a so-called "risky" vehicle.
9. Maintain a Good Credit Score Rating
Why are insurers asking for access to credit scores? According to the 2013 Annual Report on Financial Institutions of the Financial Market Authority, some automobile insurers grant a rebate depending on the financial stability of the insured, considering "generally that a financially disciplined person is more likely to do preventive maintenance on a vehicle and generally be more careful when driving a car". Thus, a good credit score often helps an individual maintain a low insurance premium. If you are not enjoying the benefits of obtaining a cheap auto insurance price due to bad credit history, click here to learn how to improve your credit.
10. Get an up-to-date quote and revise discounts
Although insurance protection is standard by region, insurance premiums may vary and maintaining your personal information up to date helps to lower your insurance cost. Whether you recently purchased a new home or got married, you should report any changes to your personal life, to your agent. A recent home purchase, a change in your marital status, change of address, or even, if your kids increased their school grades "GPA score" over 3.0, are among the many different situations that may give you a better price on your Florida auto insurance. Keep your discounts up to date.
Conclusively, the more information and knowledge you obtain about of the many options provided by the car insurance industry, the better coverage and price you will get as a consumer. Get educated, take control, and enjoy the benefits of great insurance coverage at a cheap price. Visit American US Insurance for more information on how to get a good, yet cheap Florida auto insurance policy.