Purchasing a cheap Florida homeowner's insurance policy is not an easy task, says Evelyn Calabuch, principal agent of American US Insurance, a FL Independent Insurance Agency based in Boca Raton and mainly focused in Home and Property Insurance. When you are in the process of buying a standard home insurance policy, maximizing your discounts is a priority and at American US Insurance we will help you save as much money as possible by giving you a few tips.
Although homeowner's insurance is not mandatory in the state of Florida, if your home is financed your mortgage company may require you to carry comprehensive coverage to protect their investment. If you fail to do so, then the bank will have the right to obtain coverage on your behalf from any insurance company they contract with, been this option a very expensive one since it will lack of very important coverages and it will cost you even more than a regular Florida home insurance policy. But in fact, even if your home is paid off and you own it 100%, you should equally protect what is called one of the most valuable assets one can have, your home. That is why homeowner insurance is highly recommended to protect your property investment, but before you do that, think of how you can save money and obtain a good yet cheap Florida home insurance policy.
According to a Nationwide survey, two out of every three homes in America are underinsured and on average 22% of Americans have their insurance policies undervalued. Someway, more than 40% of homeowners in Florida are not aware of the cost of their home insurance. A simple reason, they have not shopped their insurance policies in more than five years, which means they are unaware of the opportunity to reduced home insurance costs.
Based on an article from South Florida Sun Sentinel, in 2020, homeowner's insurance rates spiked to almost 28% to their original cost because of the increase in reinsurance expenses from carriers like National Specialty Insurance Co. Despite this sudden increase in home insurance prices you are still able to reduce the rates by just implementing discounts strategically to reduce your cost.
How can you get the best price on a FL homeowner's insurance policy?
1. Reduce your FL insurance premium with Wind Mitigation Inspection
Wind mitigation inspection will help reduce your insurance cost considerably because it determines to what extent your home is safe and strong to resist hurricane winds. Doing this inspection every three years will keep your discounts up to date with the insurance companies helping you with substantial savings. The wind mitigation includes information about the roof construction material, secured roof-deck attachments, secondary water-resistant sheet under the roof, and shatterproof windows or shutters.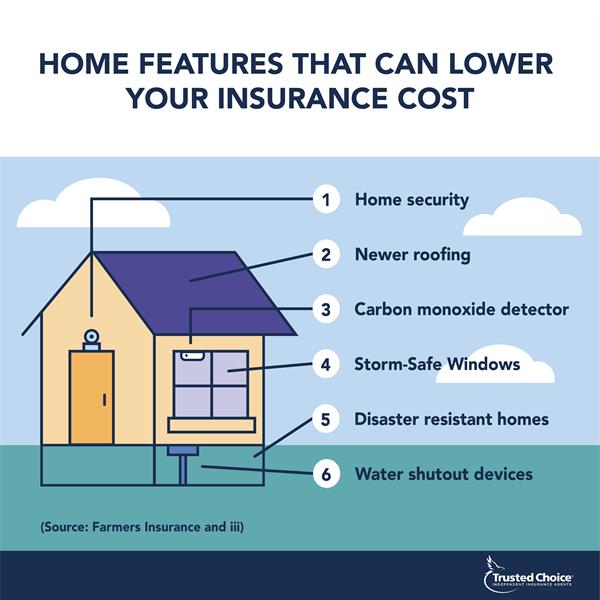 2. Doing a Four Points Inspection on your FL Home.
Older homes are more prone to disaster effects than modern ones. Therefore, taking enough steps to make your home safer and making necessary updates such as plumbing and electricity, will have a huge impact on you Florida home insurance price. That is where the four-points inspection come into place and you may elect to do it with a trusted vendor from Angie's List . As well as the Wind Mitigation, doing Four-points Inspection every three years will keep your discounts updated and your insurance price reduced. The 4 Points Inspection gather information about Plumbing, Electricity, Air Conditioner / HVAC, and roof and you will save even more money by combining the two inspections together.
3. Installing a Home Security System for your Florida Home.
Installing or upgrading your home security system is another step to take if you want to maximize savings on your Florida homeowner's insurance. Companies like ADT or Vivint will give you many options to select from at a very fair price and their plans may include home automation and video surveillance, but in any case you must always include fire and burglar protection to obtain the maximum discounts from the insurance companies.
4. Establish a solid credit history to avail discounts
Keeping your credit balance on the safer side will cut your insurance costs incredibly. Always check your credit records to keep it error-free, pay your bills on time and maintain as lower credit balance as possible because most insurance companies use credit information to determine the premium cost of the homeowner. It is recommended to have less than 30% of your credit balance in use in order to maintain a healthy credit history
5. Shop around to get the best Florida Home Insurance Quote
Always keep up with the latest insurance market trends and do not stick around with one insurance company and when your insurance policy is about to end, consider other companies before renewing it. Brokers like us American US Insurance, have many different Florida Insurance carriers to offer you the best rates in the state. We will do a complete review of your discounts and revise actual coverage to guarantee your risk are accurately assessed. So, let us help you maximize your savings.
6. Raise your deductibles
The higher your deductibles are, the lower will be your premium amount. Most insurance companies will give you options to select between 2% and 5% for wind, and up to $5000 for AOP (all other perils) deductible. Remember to always check with your lender if you have one, about maximum deductibles allowed.
7. Combine Florida Homeowners and Flood Insurance policies
Although most companies in Florida do not allow this combination, American US Insurance had partnered with A plus carriers to facilitate the Home Insurance purchase process in the state and some of them will let you combine the hazard and flood insurance policies into one. This gives you a great advantage because the savings are even higher, and your pocket will appreciate it for sure.
Next time you are in the market for Home Insurance in Florida, think of American US Insurance, an easy process with great savings. Let us review your actual policy
Sources: trustedchoice.com

https://amerinsured.com/personal-insurance/boat-insurance